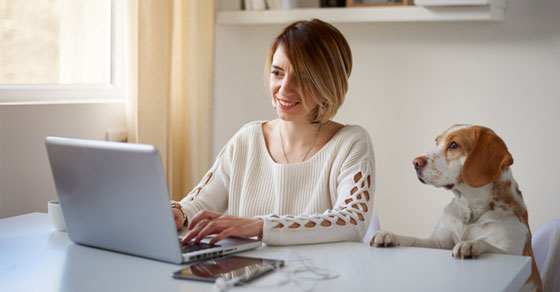 In our increasingly digitized world, the concept of work has evolved. The traditional image of workers seated at their desks in an office from nine to five has been shaken to its core. The rise of remote work, catalyzed by various factors such as technological advances and recent global events, has brought about a revolution in how we perceive and perform work.
However, remote work is not just a temporary shift; it's an enduring trend. It comes with a host of benefits for both employees and employers but requires unique strategies to effectively manage staff productivity. Let's delve into these aspects further.
Benefits of Remote Work
Increased Flexibility: One of the most prominent benefits of remote work is the flexibility it offers. Workers have the freedom to set their own schedules, allowing for a better work-life balance.
Improved Productivity: With fewer office distractions and the convenience of designing their own work environment, many remote workers report higher productivity levels.
Expanded Talent Pool: Companies are no longer limited by geographic boundaries. They can hire the best talent regardless of where they are located, leading to more diverse and skilled teams.
Cost Savings: With no need for office space, companies can save on rent, utilities, and maintenance. Employees also save on commuting costs and time.
Reduced Carbon Footprint: Without daily commutes, carbon emissions are significantly reduced, contributing to environmental sustainability.
Managing Staff Productivity in a Remote Setting
While remote work offers immense benefits, it requires effective strategies to ensure productivity and maintain team cohesiveness. Here are some best practices:
Establish Clear Communication Channels: Effective communication is vital in a remote setup. Use collaboration tools and establish protocols for daily check-ins and regular team meetings.
Set Expectations: Clearly outline job responsibilities, project deadlines, and expectations. This helps employees understand what's expected and helps them manage their workload.
Promote a Results-Oriented Work Environment: Instead of focusing on hours worked, focus on output. This approach not only respects the flexible nature of remote work but also promotes accountability.
Invest in Technology: Provide employees with the necessary tools and technologies to carry out their work effectively. This includes reliable internet access, collaboration tools, and cybersecurity measures.
Support Employee Well-being: Remote work can blur the line between personal and professional life, leading to potential burnout. Encourage employees to take breaks, establish a regular work schedule, and provide mental health resources if needed.
Provide Regular Feedback: A system for regular feedback and recognition helps to keep remote employees motivated and engaged.
Foster a Strong Company Culture: Even without a physical office, it's crucial to maintain a strong company culture. Regular team-building activities, virtual meetups, and creating a sense of shared purpose can help in building a cohesive remote team.
The shift to remote work is not without its challenges, but with the right strategies and an openness to evolving work dynamics, it can lead to significant advantages. As we move forward, companies embracing remote work will likely find themselves at the forefront of innovation, employee satisfaction, and overall productivity.